Dušanka Krajnović, PhD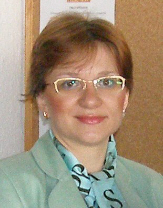 Position: Full professor
Organizational unit: Department of Social Pharmacy and Pharmaceutical Legislation
Address: Vojvode Stepe 450, 11221 Belgrade, Serbia
Room:
Phone: +381 11 3951-383
Fax: +381 11 3972-840
Email: parojcic@pharmacy.bg.ac.rs; dusica.krajnovic@pharmacy.bg.ac.rs
Dr. Dusanka Krajnovic (maiden name Parojcic) PhD holds presently an Associate Professor position and Head of the Department for Social Pharmacy and Pharmacy Legislation at the University of Belgrade –Faculty of Pharmacy. She works at the Belgrade University Faculty of Pharmacy where she graduated, and earned her M Science and PhD in pharmacy. Dr. Krajnović has MA degree in Pharmaceutical Marketing and Management from the same Faculty and MA degree in Pharmaceutical Legislation and Pharmaceutical economy. Prof. Krajnovic teaches at Belgrade university several graduate and Pharm.D. courses on pharmacy law and ethics, social pharmacy and pharmacy practice. She has supervised/co-supervised various students reading for MSc and PhDs for the University of Belgrade –Faculty of Pharamcy and Faculty of Organizational Sciences. She is involved in postgraduate training for pharmacists and physicians in Serbia. Since 1998, dr Krajnovic has been deeply involved in the area of biomedical ethics, especially on ethical issues in pharmacy practice and code of ethics for pharmacists. Later in 2004 she extended her involvement with clinical bioethics. Her areas of research is multi-disciplinary with an overarching focus on various fields of bioethics, including studying ethical competences and moral distress in health care, public health, health equity and drug accessibility, off label use of medicines, drug development and promotion, e-health and e-pharmacy, pharmacotherapy literacy and patient safety, as well as orphan drugs` availability and affordability.
For many years she has been researching the ethical and social issues surrounding rare diseases and availability of treatments through national project concerning rare diseases (Project funded by the Serbian Ministry of Education, Science and Technological Development: "Rare diseases: molecular pathophysiology, diagnostic and therapeutic modalities, and social, ethical, and legal aspects". For the last couple of years she has been carrying out applied ethical research, mapping ethical problems at community pharmacy practice on national level, planning future international research collaboration in this area. In 2006, she was the project coordinator on a project in the field of Women health promotion and public health. She is also involved in two EU project concerning bioethics and serves as national coordinator on these projects (ISCH COST Action IS1201- Disaster Bioethics: addressing ethical issues triggered by disasters; 2012-2016) and (ISCH COST Action IS1303 Citizen's Health through public-private Initiatives: Public health, Market and Ethical perspectives (CHIP ME) 2013-2017). Other on-going international collaborations include Erasmus + Project on reinforcement of the Framework for Experiential Education in Healthcare in Serbia (ReFEEHS) where Prof. Krajnovic is co-ordinating the research line for work-package on experiential education. Prof. Krajnovic is the author of the Pharmacists` Oath (2008) and Code of Ethics for the members of Pharmaceutical Chamber of Serbia (2006, 2017) and the author of one monograph on pharmacy ethics and co-author of two textbooks on pharmacy practice and communication. Dr Krajnovic is a fellow of the Center for the Study of Bioethics at the University of Belgrade since its founding and serves as Deputy Director since 2016. The professional membership of dr Krajnovic includes prominent associations, such as: Serbian Unit of the UNESCO Chair in Bioethics(member of the Steering Committee from 2011, General Secretary (2011-2015),Deputy Head (2015-));Pharmaceutical Society of Serbia (member from 1998, General Secretary of the History of Pharmacy section from 2000, President of the History of Pharmacy Section from 2017); International Academy for the History of Pharmacy (full member from Serbia since 2009); International Society for History of pharmacy (member since 2004, General Secretary (2014-2017));PCNE; Association of teachers of ethics( since its founding 2014); Association for Medical Law of Serbia (UMPS). Furthermore,dr Krajnovic is listed at the Global Ethics Observatory (GEObs) UNESCO database for experts in bioethics. Her expertise is recognised through her membership to the Ethics board of Pharmaceutical Chamber of Serbia (Chair), as well as in the Ethics committee of University of Belgrade-Faculty of Pharmacy (Chair) and Ethics committee for biomedical research at Faculty of Pharmacy (co-Chair). She has been a health services research & pharmacy practice researcher for over 10 years. Her particular expertise is in qualitative methodologies - interviews, focus groups, and has also used the nominal group technique,.Moreover, she has considerable experience in designing questionnaires and conducting surveys. She has a strong publication record, ensuring timely dissemination at academic and professional conferences, and effective engagement with various stakeholders. To date, she has published over 25 articles in peer-reviewed, international journals and more then thirty articles in national journals. Additionally, 4 books and 3 book chapters have been published on healthcare ethics, pharmacy ethics, ethical competences and moral issues in health care.
Krajnović D, Jocić D. Experience and Attitudes Toward Informed Consent in Pharmacy Practice Research: Do Pharmacists Care? Science and Engineering Ethics (2016) doi:10.1007/s11948-016-9853-3

Milosavljevic J, Bogavac-Stanojevic N, Krajnovic D, Mitrovic-Jovanovic A. Serbian gynecologists' and pharmacists' beliefs about emergency contraception. Women and Health 2016 April 11:1-12 (Epub ahead of print) http://dx.doi.org/10.1080/03630242.2016.1176099;

Milica Zekovic, Marija Djekic-Ivankovic, Marina Nikolic, Mirjana Gurinovic, Dusanka Krajnovic, Marija Glibetic.Validity of the Food Frequency Questionnaire assessing the folate intake in women of reproductive age living in the country without food fortification: application of the method of triads. Nutrients Nutrients,2017, 128;9:1-17.Accepted for publication in 2017.
Crnjanski T, Krajnovic D, Tadic I, Stojkov S, Savic M. An Ethical Issue Scale for Community Pharmacy Setting (EISP): Development and Validation. Science and Engineering Ethics 2016;22(2):497-508.
Milosavljevic J, Krajnovic D, Bogavac-Stanojevic N. Predictors of pharmacists' provision of emergency contraceptive pills. Health Care Women Int: 2016 vol. 3; 10: 1170-1181. DOI:10.1080/07399332.2016.1215464
Budin-Ljøsne I, Mascalzoni D, Soini S, Machado H, Kaye J, Bentzen HB, Rial-Sebbag E, D'Abramo F, Witt M, Schamps G, Katić V, Krajnovic D, Working Group 1 COST Action CHIP ME IS1303 "Citizen's Health through public-private Initiatives: Public health, Market and Ethical perspectives", Harris JR. Feedback of individual genetic results to research participants: Is it feasible in Europe?

Biopreservation and Biobanking

2016;

14

(

3)

,

241 -248.

DOI: 10.1089/bio.2015.0115
Bekčić S, Kelečević N, Marinković V, Tasić Lj, Krajnović D. Developing a quality management tool for preparing Good Distribution Practice audit of pharmaceutical contract vaccine distributor.Indian Journal of Pharmaceutical Education and Research 2015;49(3):147-82.
Tatjana Crnjanski; Dusanka Krajnovic; Mirko Savic. Pharmacists' assessment of the difficulty and frequency of ethical issues encountered at community pharmacy settings. Science and Engineering Ethics 2017- in press
Milošević Georgiev A, Krajnović D, Manojlović J, Ignjatović S, Majkić Singh N. Seventy Years of Biochemical Subjects' Development in Pharmacy Curricula: Experience from Serbia (Sedamdeset godina razvoja biohemijskih predmeta u kurikulumu farmacije: Iskustvo iz Srbije). J Med Biochem. 2016; 35 (1) 69–79.

Suzana Miljković, Đorđe Baljozović, Dusanka Krajnovic, Ljiljana Tasić, Gorica Sbutega-Milosević.The Impact of Education on Adolescents' Sun Behavior: Experiences from Serbia. Srp Arh Celok Lek. 2014 May-Jun;142(5-6):330-336.

Jocić D., Krajnovic D. Development and initial validation of a scale to measure attitudes and beliefs of pharmacists toward their work with patients. Vojnosanit Pregl 2014; April Vol. 71 (No. 4): p. 373-82

Jocić D, cD. State anxiety, stress and burnout syndrome among community pharmacists:Relation with pharmacists' attitudes and beliefs. Indian Journal of Pharmaceutical Education and Research, 2014; 48(2):9-15.

Stojkov S., Tadic I., Crnjanski T., Krajnovic D., Bates I. Evaluation of competences at the community pharmacy settings. Indian Journal of Pharmaceutical Education and Research 2014;48(4):22-30.
Krajnović D., Arsić J., Milošević Georgiev A., Manojlović J. The opening of the first Pharmacy in Vranje with educated pharmacist and its development through time. Vojnosanitetski pregled 2014, 71(10): 978–84.
Arsić J, Krajnović D,Arsić S, Milošević Georgiev A, Marinković V. Doprinos farmaceuta razvoju zdravstvene kulture u Vranju krajem 19. i u prvoj polovini 20. veka. (Contribution of Pharmacists to the Development of Healthcare Culture in Vranje by the End of the 19th Century and in the First Half of the 20th Century) Srp Arh Celok Lek. 2014; 142(11-12): 768-76.
Milosavljević J, Krajnović D, Bogavac-Stanojević N, Mitrović A. Gynaecologists' views on contraception and abortion – an example from Serbia. The European Journal of Contraception and Reproductive Health Care 2015; 20: 141–148.
Svetlana Stojkov, Ivana Tadic, Tatjana Crnjanski, Dusanka Krajnovic. Assessment and Self-assessment of the Pharmacists' Competencies using the Global competency framework (GBcF) in Serbia. Vojnosanit Pregl 2016; Mart vol. 73 (No. 9):2016-OnLine-First (00):40-40 DOI:10.2298/VSP140728040S
Dragana Lakić, Ljiljana Tasić, Mitja Kos, Guenka Petrova, Assena Stoimenova, Dusanka Krajnovic Pharmacy network and access to medicines in selected eastern European countries: comparative analysis. Croatian Medical Journal 2012; 53: 53-9.

Savic Ivan, Marinkovic Valentina, Tasic Ljiljana, Krajnovic Dusanka,Savic Ivana.From experimental design to quality by design in pharmaceutical legislation. Accreditation and quality assurance 2012, 17 (6):627-633. ISSN: 0949-1775 DOI: 10.1007/s00769-012-0926-y Springer-Verlag, Berlin/Heidelberg

Bekčić S., Kelečević N.,Marinković V.,Tasić LJ, Krajnović D. Approach to the Integration of Management Systems in a Pharmaceutical Organization. Indian Journal of Pharmaceutical Education and Research,2013;47(3):19-25
Crnjanski T, Krajnovic D, Stojkov-Rudinski S, Tadic I. Ethical dilemmas and moral distress in pharmacy: a qualitative study. HealthMED Journal. 2012;6(7):2485-93. ISSN:1840-2291
Jocic D., Krajnovic D. "The influence of autogenic training on state anxiety reduction among community pharmacists in Serbia" HealthMED Journal, 2012; 6 (8): 2675 – 85. ISSN:1840-2291

.

Milošević Georgiev A, Krajnović D, Milovanović S, Ignjatović S,Đurić D, Marinković V. Analiza razvoja regulatorno-etičkog okvira za klinička ispitivanja. Srp Arh Celok Lek. 2013; 141(9-10):660-7.
Save