Ivana Tadić, PhD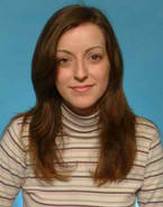 Position: assistant professor
Organizational unit: Department for Social Pharmacy and Pharmaceutical Legislation
Address: Vojvode Stepe 450, 11221 Belgrade, Serbia
Room: B306
Phone: +381 11 3951-206
Fax: +381 11 3972-840
Email: ivana.tadic@pharmacy.bg.ac.rs

Ivana Tadic was born on October 19th 1978 year in Zajecar (Serbia). She has graduated at the University of Belgrade Faculty of Pharmacy in 2005 year. After it, she has been working for two years in two different community pharmacies in Belgrade.
Ivana Tadic has finished two postgraduate one year programmes at the University of Belgrade Faculty of Pharmacy: Pharmaceutical management and marketing (finished 2007 year) and Pharmacoeconomy and pharmaceutical legislation (finished 2011 year). She has enrolled the PhD studies (programme: Social pharmacy and research in pharmacy practice) at the same University. After 4 years she has completed her PhD studies defended the doctoral thesis named "The application of factor analysis in studies of psychometric properties of osteoporosis knowledge assessment questionnaire and quality of life questionnaire for patients with osteoporosis".
In 2010 year she has received the award as one of the best PhD students at the University of Belgrade Faculty of Pharmacy, for the paper "The role of pharmacists in improving patients' compliance".
Ivana Tadic is involved in teaching undergraduate and postgraduate students at the several courses organized by Department of Social Pharmacy and Pharmaceutical legislation.
From 2012 year, Ivana Tadic is a coordinator for Serbia for Pharmaceutical Care Network Europe project: "Provision of pharmaceutical care by community pharmacists".
Research fields: Research of pharmacy practice, Humanistic outcomes, Patients adherence, Psychometrics, Confirmatory factor analysis, Epidemiology statistics, Osteoporosis and pharmacotherapy, Pharmaceutical management and marketing, Pharmacoeconomy.
Language: English
Stevanovic D, Tadic I, Novakovic T, Kisic-Tapavcevic D, Ravens-Sieberer U. Evaluating the Serbian version of the KIDSCREEN quality of life questionnaires: Reliability, validity and agreement between children's and parent's ratings. Qual Life Res 2013;22(7):1729-37.
Tadic I. Vujasinovic Stupar N. Značaj procene kvaliteta života pacijenata sa osteoporozom i prisutnim prelomima. Balneoclimatologia 2013; 39(1): 225-33.
Vujasinovic Stupar N, Tadic I. Antiresorptivna terapija osteoporoze. Balneoclimatologia 2013; 39(1):79-95.
Tadic I, Vujasinovic Stupar N, Tasic L, Stevanovic D, Dimic A, Stamenkovic B, Stojanovic S, Milenkovic S. Validation of the osteoporosis quality of life questionnaire QUALEFFO-41 for the Serbian population. Health Qual Life Outcomes 2012;10:74.
Tadic I, Stevanovic D, Tasic LJ, Vujasinovic-Stupar N. Development of a Short Version of the Osteoporosis Knowledge Assessment Tool. Women Health 2012;52(1):18-31.
Stevanovic D, Jancic J, Topalovic M, Tadic I. Agreement between children and parents when reporting anxiety and depressive symptoms in pediatric epilepsy. Epilepsy Behav 2012;25(2):141–4.
Stojkov-Rudinski S, Tadic I, Crnjanski T, Krajnović D. Analiza, adaptacija i validacija dokumenta za procenu kompetencija farmaceuta. Arh farm 2012;62(3):208-18.
Crnjanski T, Krajnovic D, Stojkov-Rudinski S, Tadic I. Ethical dilemmas and moral distress in pharmacy: A qualitative study. HealthMed 2012;6(7): 2485-93.
Stevanovic D, Tadic I, Novakovic T. Health-Related Quality of Life in Children and Adolescents with Epilepsy: A Systematic Review. In: Patelin Gadže Z. Epilepsy in Children - Clinical and Social Aspects. InTech 2011:161-186.
Tadić I, Tasić Lj, Đorđević B, Kundaković T, Rakić M, Bogavac-Stanojević N. Analiza upotrebe dijetetskih suplemenata za smanjenje telesne mase. Vojnosanit Pregl 2010;67(10):831-8.